Med-students for decades have used traditional stethoscopes to run diagnostics. However very few innovations have been made in the field of stethoscope technology up until the last 10 years. Electronic stethoscope have begun to come on the market and their presence in hospitals and ambulances are on the rise!
Electronic stethoscopes are still in their infancy. However several design changes and research has led to the ones on the market today. The big benefit they bring is severe amplification of sounds. In fact, electronic stethoscopes may very well be the best solution for doing auscultation in a room filled with white noise of fans, electronic instruments, and computers.
It is advised that if you are a med- or nursing-student that you get familiar with the "standard technology". Standard stethoscopes are after all a lot more common than electronic ones. You need to be able to use any stethoscope to perform diagnostic procedures.
Some swear by a Littmann Electronic Stethoscope, others are not sure where to turn. To know what the best stethoscope is largely depends on your field of medicine and your area of expertise.
Let's check out a few key things about buying an electronic stethoscope, and have a look at some of the best ones on the market.
What to Look for When Buying an Electronic Stethoscope:
Amplification
Popular stethoscopes use complex transducers. These allow medical professionals the ability to hear heart murmurs, lung sounds etc. in great detail. Transducers turn analog sound waves to a digital sound pattern. These can then be amplified and modified for a variety of uses. This gives the user something you don't get with a traditional stethoscope.
Ambient noise handling and reduction
Anyone who has ever been to a concert knows how a feedback loop sounds like. The high-pitch screech coming out of the speakers as a result of an amplified sound being amplified again. Such is the case also with an electronic stethoscope. Under certain circumstances loud ambient noises can be amplified by the stethoscope.
Luckily the engineers who have developed this technology have thought about this and implemented procedures to prevent this. They have come up with digital stethoscopes capable of eliminating unwanted sounds in an auscultatory process.
Communication protocol and Software
The big benefit of electronic stethoscopes over traditional ones is the fact that the analog sound waves are turned digital. Anything digital means it can be stored, modified and transmitted. As a result it is now possible to keep a record of your patient's vital signs which can prove useful for future diagnostics.
At the same time if your patient would at some point change physicians it is easy to transfer their medical history with the click of a button.
Battery
In the early days of electronic stethoscopes they would fail prematurely due to battery failure. However current market leaders today guarantee a longer battery life. Even when used more than 25 times a day, 5 days a week with a single AAA battery.
Ease of use
User-friendly electronic stethoscope
s should have easy to use controls and dedicated buttons to adjust volume up/down, power on/off and change mode between bell/diaphragm right on the head
Best electronic stethoscopes on the market today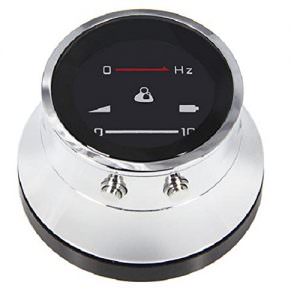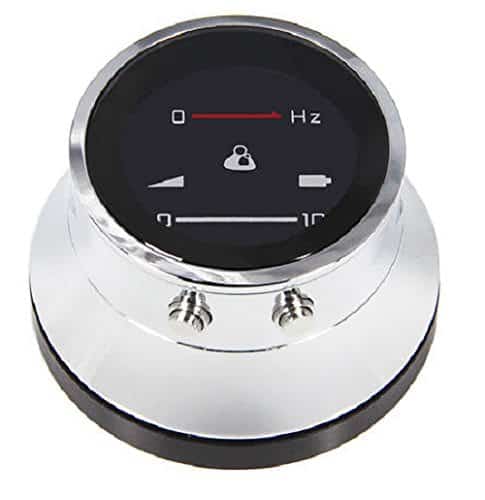 Thinklabs ONE is an electronic stethoscope with unparalleled sound quality. Faint sounds, heart murmurs and obese patients become that much easier to diagnose using this stethoscope. Its 100X amplification with adjustable volume controls offers unrivaled control. You'll hear everything you need to hear!
Additionally you can even use your own headphones thanks to the audio-jack on its side.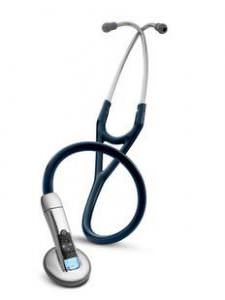 Extremely comfortable, lightweight, and easy to use, this electronic stethoscope is unlike other electronic stethoscopes. The Littmann 3100 provides 24x amplification and a great sound experience. Equivalent to top-of-the-line cardiology stethoscopes. It doesn't to record any noises unfortunately. However its exclusive noise reduction technology cancels out ambient noise that may interfere with your auscultation. It has state-of-the-art sensor design and exceptional filter performance. It even minimizes any disturbance and allows you to focus more on what you need to hear.
Note that you need to have a licensed business account to purchase this electronic stethoscope on amazon.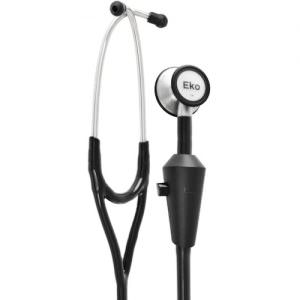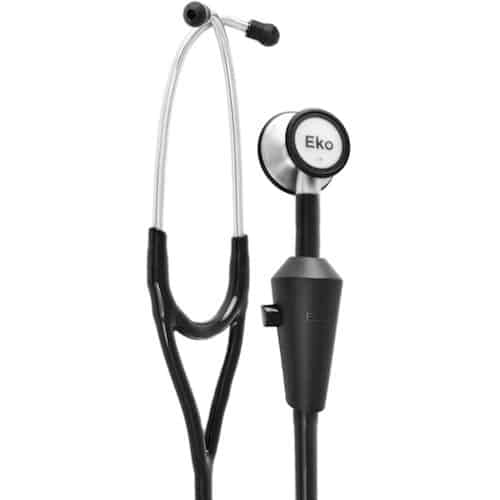 The EKO Core Digital Stethoscope is one of the few digital stethoscopes that is … analog! You can use a standard stethoscope with this device. The EKO Core electronic stethoscope has a bluetooth device that connects to your phone or tablet. So while you run your diagnostic procedures, the digital bluetooth device transforms the analog sound waves to digital ones. As a result these digital sound patterns are then sent to your tablet or phone.
Note that nothing is recorded by the device. It simply changes the analog waves to digital ones and then sends them straight through. These can then be captured and stored in a patient's medical record. That's excellent if you work in a cardiology office!
Electronic Stethoscopes Are Awesome
Electronic stethoscopes in their own right are a wise choice to make. The ease with which you can transfer data is unparalleled. Although at times expensive, they can be just what you need for an advanced auscultation.
Do you use an electronic stethoscope? Which is your favorite?